ISS Main Expedition Four Mission Chronicle: June 2002

Separate Works

Fifth Main Expedition Blasted Off

Cargo Of Endeavour

European Glovebox

Endeavour Relieves Crew Of ISS

STS-111 Crew Patch

Strange Seeing-Off
The Crew Return Vehicle project was to be terminated by now. But it is still alive…


STS-111 Statistics

ISS Main Expedition Five Mission Chronicle: June 2002

Gaining Tempo

Progress M1-8 Undocking And Deorbiting

Progress M-46 Approaches Station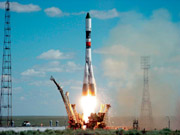 Docking Of Progress M-46

The Best Way To Augment ISS Crew
RKK Energiya redesigned the Enterprise Module for ISS. If agreed with NASA and other partners, Enterprise will be launched by Shuttle to house three more crewmembers.


European Solution For American Problems
ESA blocked 2/3 of its planned funding for ISS development for 2002-2006.


The Paris Summit On ISS
The only result of the talks is the decision to defer final decision to the end of 2002.


Joint Tests Of The Japanese Segment Finished

Red Flag With Golden Stars: From Low Orbit To The Surface Of Moon